Kossuth student Hank Eaton selected to compete for Team Mississippi at PBR Junior Futures Game in Atlanta
A Kossuth student athlete has been selected to play for Team Mississippi in the Prep Baseball Report Junior Futures game in Atlanta this summer.
Hank Eaton, the 8th grade son of Steven and Jessican Eaton, was selected after his performance on Saturday, March 14th where many of Mississippi's top 7th and 8th graders made their way to Smith Will's Stadium in Jackson for Prep Baseball Reports Jr. Future Games Identification Showcase.
The players were put through a typical showcase style workout that allowed each of them to show off their individual skill set. Pitchers were also allowed to face hitters later in the day to give the PBR staff an opportunity to evaluate players in game-like activity. 
Hank was one of the players selected to compete for Team Mississippi. The scouts there had this to say:
Maybe one of the most versatile players at the event was Hank Eaton. (Kossuth). Eaton ran a 7.34 60, looked polished on the mound (81mph), showed advanced ability on defense, and was very balanced and rhythmic at the plate with aggression at contact.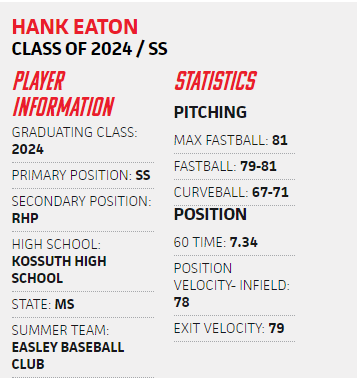 The Junior Future Games will be for the top players in the class of 2024 and will be held July 29-August 2nd.
Hank will be a freshman for the Aggies next season. Congrats on being selected for this opportunity.
If you enjoy our coverage of Alcorn County sports, consider checking out our fundraiser to help us get through the COVID19 crisis.