Kossuth gets gritty one point win over rival Booneville
Kossuth and Booneville are no strangers to each other, competing in the same division across multiple sports, usually with district championship implications.
The two schools, only 19 miles apart, are certainly familiar with each other.
The Aggies and Blue Devils turned in an instant classic on Friday night, with Kossuth avenging last years 20-19 loss with a one point victory of their own, a 44-43 back and forth thriller.
Booneville struck first with a 1 yard quarterback sneak by John Deaton. Kossuth's quarterback Brock Seago, not to be outdone, broke off a 50 yard scramble on the ensuing drive for the Aggies and a Kota Wilhite 2 point coversion gave Kossuth an 8-6 advantage after the first quarter.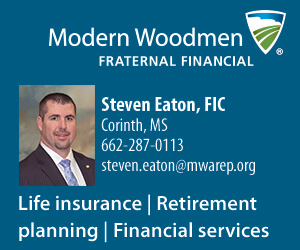 Booneville would outscore the Aggies 23-6 in the second period for a 29-14 halftime advantage.
Facing a deficit against a talented Booneville team, Kossuth got 22 points in the first 6 minutes of the 3rd quarter to take a 36-35 lead heading into the final frame.
In fitting with the theme of the game, Booneville would claw back to retake the lead early in the fourth quarter 43-36 after a Noah Sisk extra point.
Kossuth, with time running out, got a Brock Seago touchdown and a Kota Wilhite 2 point conversion with just 15 seconds remaining to pick up a huge 44-43 victory.
You can see more pictures from Larry Glidewell, who predicted the close Kossuth victory, by clicking here.